The Comic Book Fan's Guide to Black Friday/Cyber Monday 2013
60% off select graphic novels, 80% off select comics and nick/dent issues. Plus tons of collectibles! Use code NEWS to get free shipping (thanks for the tip, Ilikegiraffes!). Sale ends 12/2.
Cyber Monday: 60-80% off hundreds of items!
50% off Avengers vs. X-Men: Collected Edition, discounted individual AvX issues, more than 50 other Marvel comics for just a dollar, and up to 60% off Image titles through 12/2! Bonus: select Action Lab titles are $0.99 through Sunday on comiXology.
Cyber Monday: DC's New 52 volume 1's are $4.99 each. You can also take 40% off one of select items using code CYBER40, 12/2 only.
Buy 2, get 1 free on Marvel graphic novels! This deal is while supplies last.
DC, Marvel, Image, and Dark Horse titles are 46% off. IDW, Valiant, Fantagraphics, and Boom Studios titles are 38% off.
Up to 70% off on holiday gifts: phone accessories, apparel, jewelry, toys, and more! Sale ends 12/2.
Image is having a 50% off sale on all digital releases for the whole weekend! Best part: their comics are DRM free. Source: Reddit.
Cyber Monday: 25% off select t-shirts!
25% off all regular price t-shirts, including some sweet Marvel threads. Use code BLACKFRIDAYTSHIRTS25 at checkout.
Online: 40% off all graphic novels and up to 40% off everything else (statues, apparel, etc.) until 12/4. In-store at any of three NY locations: 25% off everything on 11/29 until noon!
Cyber Monday deals: Click here to see the weeklong sales, starting 12/2. Free shipping on orders over $50.
Great deals on a decent selection of DC Comics action figures. Sale ends 12/1.
Cyber Monday: Free shipping on all orders with no minimum (use code CHASER for U.S., SEEKER for outside U.S.). Up to 50% off on items.
Huge Black Friday sale on pretty much everything you can think of! Their Marvel section is the best for comic book fans, though, with lots of apparel and toy options (look for the red sale tags). Use code BLACKMAGIC to take an extra 20% off orders of $40+. Deal ends 11/30!
Save lots of moolah on Marvel movie and comic collectibles. Considering how pricey Sideshow's statues are, you'll want to take advantage of this. Sale ends 12/2.
Barnes & Noble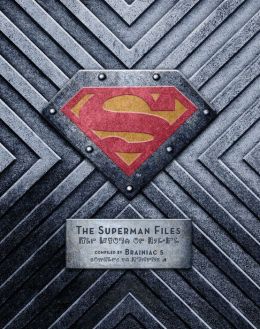 The Black Friday weekend sale has slim pickings for comic book fans, but I did manage to find The Superman Files half-off. The Song of Ice and Fire (Game of Thrones) box set is half-off, too (not comic related, but worth a read!).
Cyber Monday: Use CMONDAY25 to take 25% off anything!
Bonus sale via Reddit: there's a buy 2, get 1 free deal on Marvel and DC/Vertigo titles until 1/2!
Robert Kirkman's imprint at Image is having a sale all weekend! They'll be posting the discount codes on their Twitter account, so keep your eyes peeled. Thanks to Billy of Tuesday Night Movies for the tip.
Amazon
Amazon is good to us, but it's even better to us on Black Friday and Cyber Monday. Use code BOOKDEAL on 11/29 to take 30% off that graphic novel you've had your eye on. The Dark Knight trilogy, Marvel Cinematic Universe, and X-Men movie collections are all discounted. There's a whole Geek Goodies holiday sale category and a Heroes and Villains Collectibles sale category until 12/1, too. On top of all that, ask0s found out that there are a number of DC comics available for free until 12/2.
Several pieces from the popular Batman and Catwoman-inspired collection are on sale until 12/2. As the owner of quite a bit from this collection, I can vouch for the quality!
A ridiculous number of Marvel and DC toys are on sale until 12/2.
Almost every Hero, Costume, Pet, and Bundle during this massive sale is 25% off their original price! Nearly all webstore packs at store.marvelheroes.com are also on sale. Sale ends 12/2.
20% off all graphic novels, books, back issues, toys and statues in-store until 12/3. Locations in Manhattan, NY and Staten Island, NY. You must be a JHU member to participate, but it's free to join!
It's the 30th anniversary sale at their NYC location! Half-price back issues, discounts on statues and hardcovers, plus thousands of comics for $1. Sale runs until 12/3.
20% off storewide in the Manhattan, NY location, for 11/29 only. Comics, collectibles– everything you can think of!
In-store only: all used comics, manga and graphic novels (up to 29.99) will be marked down to $2.99 a pop on 11/30! You can buy as many as you'd like during the sale. Thanks to Courtney for the tip!
Dennis has some really, really adorable prints at 35% off through 11/30. With art featuring Arkham Babies and Spider-Man villains modeled after Maurice Sendak characters, his shop is the perfect place to grab gifts for the comic book fan in your life (or, you know, for yourself). Use code BLACKFRITB at checkout.
The Black Friday Megabundle includes over 150 Star Wars comics for just $100. Aw, yeah! Sale lasts the weekend. Source: Reddit.
Lots of special items just for Black Friday, including Venom and Doctor Manhattan posters. They'll be released periodically throughout the day. Mondo prints are limited, hand-numbered and they sell out fast, so stay tuned to their Twitter if you're eager to purchase one.
If you have any other sale tips, feel free to send them in!
* Banner art by Dennis Salvatier, featuring his "Gotham Girls" print set.